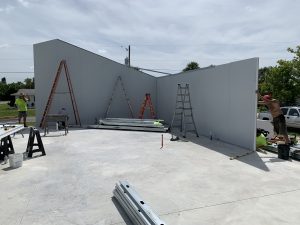 Building a home is taking longer than it used to thanks to backups from the recent pandemic and all the shutdowns. The price of lumber is greatly inflated as are many other building supplies; if you can get them. The photos are of a unique style of building took place recently in Port Charlotte, Florida. It's called Steel SIPS. The entire house is framed in steel; no wood =no termites! Then, the SIPS panels, which are custom ordered are inserted into the steel track and joined together.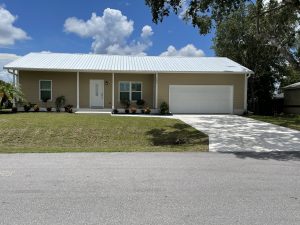 The finished exterior of the Steel SIPS home has Composite siding and a steel roof. The home is rated R-60 in insulation value with impact missile testing at 230 mph.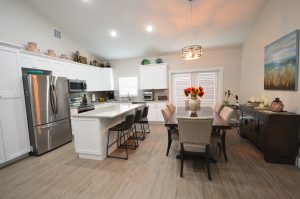 The interior walls and ceiling were finished out with 1/2″ drywall. The main area of the house as well as the 3 bedrooms feature  vaulted ceilings while the hallways and the bathrooms have dropped ceilings. The flooring is pre-engineered vinyl plank which is waterproof and easy to clean.